Hello friends,
this week we wanted to fight the boredom of quarantine by challenging each other in a cooking competition. 
The theme was Carbonara!
The Carbonara's legend
The recipe is typical of Roman cuisine and has a very curious story.
The legend tells that in Naples, at the end of 1944, an American soldier, hungry and not satisfied with the poor and simply spaghetti, put in a lot of ingredients, all the stuff he had in his military backpack: the egg, powder, bacon and cream.
Thus was born the first "carbonara", which was harmonized and today is one of the most famous dishes of Roman spaghetti!
Nowadays, the favorite pasta to use are spaghetti or fusilli, one fresh egg each and a good quality of "guanciale" (pork cheek).
And the winner is?
We were very happy to receive the photos of your carbonara and see that you definitely have an Italian soul!
Many of you have participated, and we decided to elect three winners.
Best carbonara Award: Darren Foster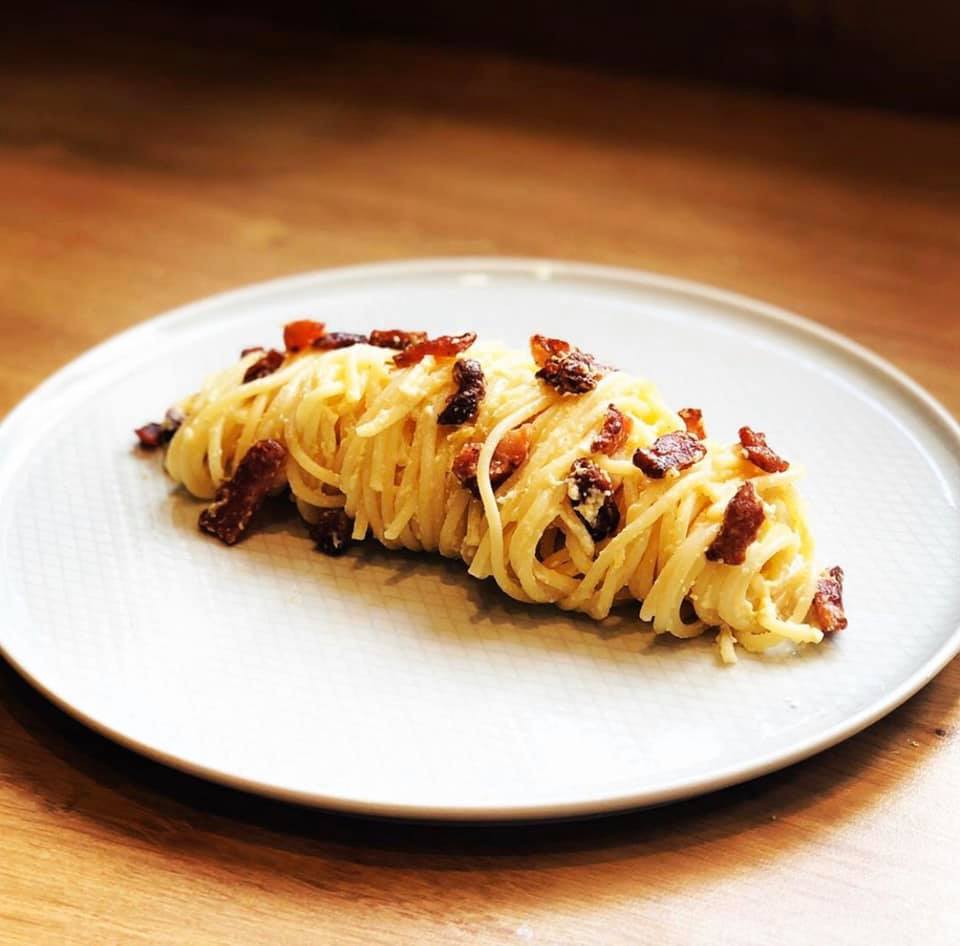 Creative Carbonara Award: @chasingsara
Best chef pose Award: @oilyartist
The prize is a discount on any of our experiences with the code: CARBONARA.  You can use it yourself or give it to friends. In this way, you will continue to discover with us all the secrets of Roman cuisine.
Thank you very much to all participants, we are happy to have wonderful chef friends all over the world!
Until the next challenge 😉
P.S. If you wish to have the original recipe, here are the ingredients and the procedure for four people
Ingredients for four people; Total time 16'
14 oz spaghetti or fusilli

7 oz of guanciale

3 tablespoons of Parmigiano

3 tablespoons of pecorino (the roman one!)

4 eggs

1 Garlic clove

Extra virgin olive oil

Salt

Pepper
Directions
Cut the guanciale in small pieces and along with the garlic put it into a large frying pan with one tablespoon of extra virgin olive oil, until the guanciale is crispy. Then take the garlic out and let the bacon rest.
In a bowl mix 2 egg yolks and 2 whole eggs with the cheese (parmigiano and pecorino) adding salt and pepper, until you'll obtain a homogeneous cream.
While you prepare the cream, boil the pasta in salted water.
Be sure to drain the pasta "al dente" which must be quickly mixed with the cream and the crispy, hot guanciale.
Serve very hot with a generous help of pecorino and parmigiano cheese.
Buon appetito!
0