Hello friends,
What if a tour guide could only do tours in her house during quarantine?
Let's find out together: here's her day like!
05:45 a.m.: she wakes up, 15 minutes before the alarm clock, and prepares for the daily battle: finding tickets for her group to enter the Colosseum. Like a gladiator…
06:00 a.m.: the alarm ring, but she doesn't even notice it, she's already standing in a frozen shower sharpening her elbows like swords, ready for the line at the ticket office.
06:05 a.m.: the freezing shower has a completely different effect: she realizes that we are all in isolation.
No lines at the ticket office, no group to explain Rome, no tasting of typical products around the city.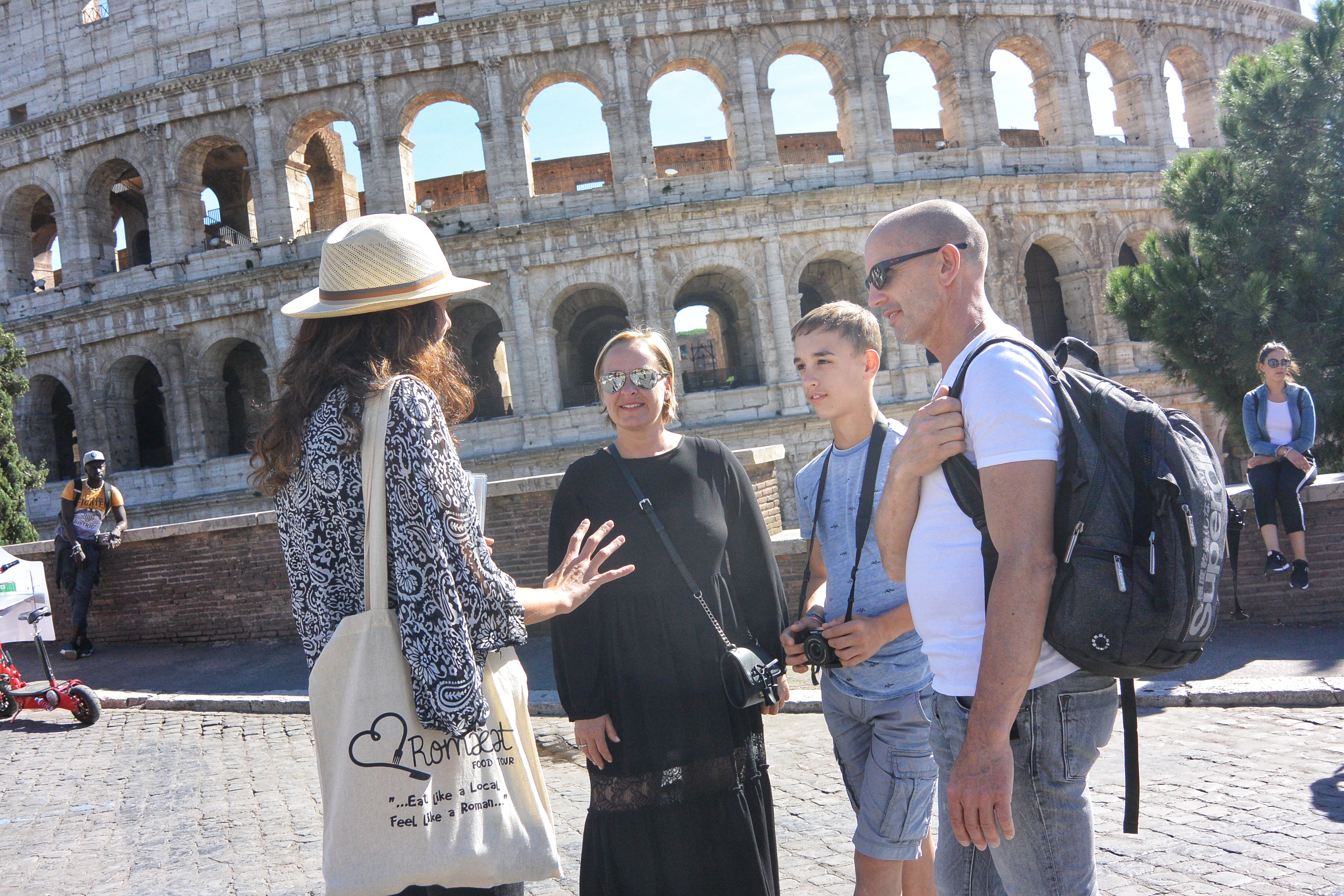 06:15 a.m.: instead of wearing "work clothes" – i.e. a comfortable but professional outfit, a hat to avoid the 45°C of the centre of Rome at midday and a pre-set 32-tooth smile – she puts on her "isolation clothing": allsuit size XXXXXXXL
06:45 a.m.: after a calm breakfast, she is preparing for a yoga session. It's good to keep in shape.
06:48 a.m.: at the third fall on the 3-legged dog's position, and after trying to "stretch" muscles she didn't know existed, she decides that yoga is not for her.
07:30 a.m.: after 30 minutes of depression due to lack of physical contact and pushing at the ticket office line, she starts writing whatsapp to the whole family.
07:45 a.m.: no response to the messages: normal people are still asleep.
08:00 a.m.: with a sprint of positivity she decides to study a little bit. Look at the university books: "archaeology", "ancient history", "sensational history" that nobody knows. At the end the books stay there, if at the university she studied only on the notes there must be a reason, right?
09:00 a.m.: the world begins to wake up, it's time to try to socialize again. Messages to the group of friends from the sea, the mountain and even the group of mothers from the kindergarten (although she doesn't have any children, she crashed there).
No answer: they are all smart working and pretending to be busy. Those who do have a child are really busy and their cell phone was lost at the beginning of the isolation when the adorable brat hide it like a pirate's treasure.
10:00 a.m.: is devoured by hunger.
Usually at this time she is walking in some local market in the Capital tasting delicacies and explaining to ecstatic tourists how to pronounce bruschetta (better known as bruscetta).
Today she makes stops between the pantry labeled "white mill" and fridge full of alcohol to face the isolation.
11:00 a.m.: It's on TV: strictly Rai Storia. Documentary on how the ancient Romans would have lived in the days of the coronavirus. Unbelievable, the coronavirus also on History Channel.
12.30 p.m.: In her mind enters with arrogance… the carbonara: it's lunch time.
During the tours at this time has already robbed the local market, tasted the baked pizza and exalted the plethora of tourists with tiramisu.
12:45 p.m.: have to choose between a lasagna made by family or a healthy salad.
2:00 p.m.: in a supine position on the couch she is digesting the lasagna. Another extra kilo earned for today.
4 p.m.: remembering good times, she starts a 3d puzzle of the Colosseum, ordered on amazon and miraculously arrived (while at the customs they stopped 18 loads of fake masks). The customs officers are not interested in culture either.
5 p.m.: she inserts the last piece of the 3d puzzle and bursts into tears thinking how much she misses her work.
7 p.m.: Is the time for Prime Minister Conte's press conference: he congratulates the population for their efforts. He confirms extraordinary economic measures to support everyone. He mentions the festivities of Easter, 25th April, 1st May and says that… we will spend them at home. Maybe in Ferragosto we can make the bonfire, but without friends, only the fire and at most the guitar.
8:00 p.m.: have an aperitif on zoom with friends. It was supposed to be at 6:00, but everyone waited for Conte.
8:05 p.m.: You still haven't heard a complete sentence, everyone is talking about each other and no one has yet understood that in video conference you can't make noise like you did "da Sergio ar baretto".
8:39 p.m.: Finally, the impetus of the "caciara" has run out, we start a talk about how to better organize these virtual reunions between friends.
8:40 p.m.: the call falls on zoom because nobody has the pro account. Well, that's the way it went for today.
8:45 p.m.: she opens the fridge, there's always salad.
9:15 p.m.: The "triple inhuman cheeseburger" ordered on Just Eat arrives.
10:30 p.m.: in full digestion on the couch concerns his 3d puzzle artwork of the Colosseum, thinks that live will not see it for at least another month.
11:00 p.m.: she goes to bed, early tomorrow there is an alarm clock at 6. Ah no, no alarm. But now she is in bed, to fall asleep she counts the "windows" of the Colosseum.
02:00 a.m.: Piero and Alberto Angela (famous scientific explainers) appear in a dream, they are dressed as ancient Romans inside the Colosseum. They say a few simple words: "We'll make it".
02:01 a.m.: She thinks about the beauty of the city, the love for this job and when we will all come back around.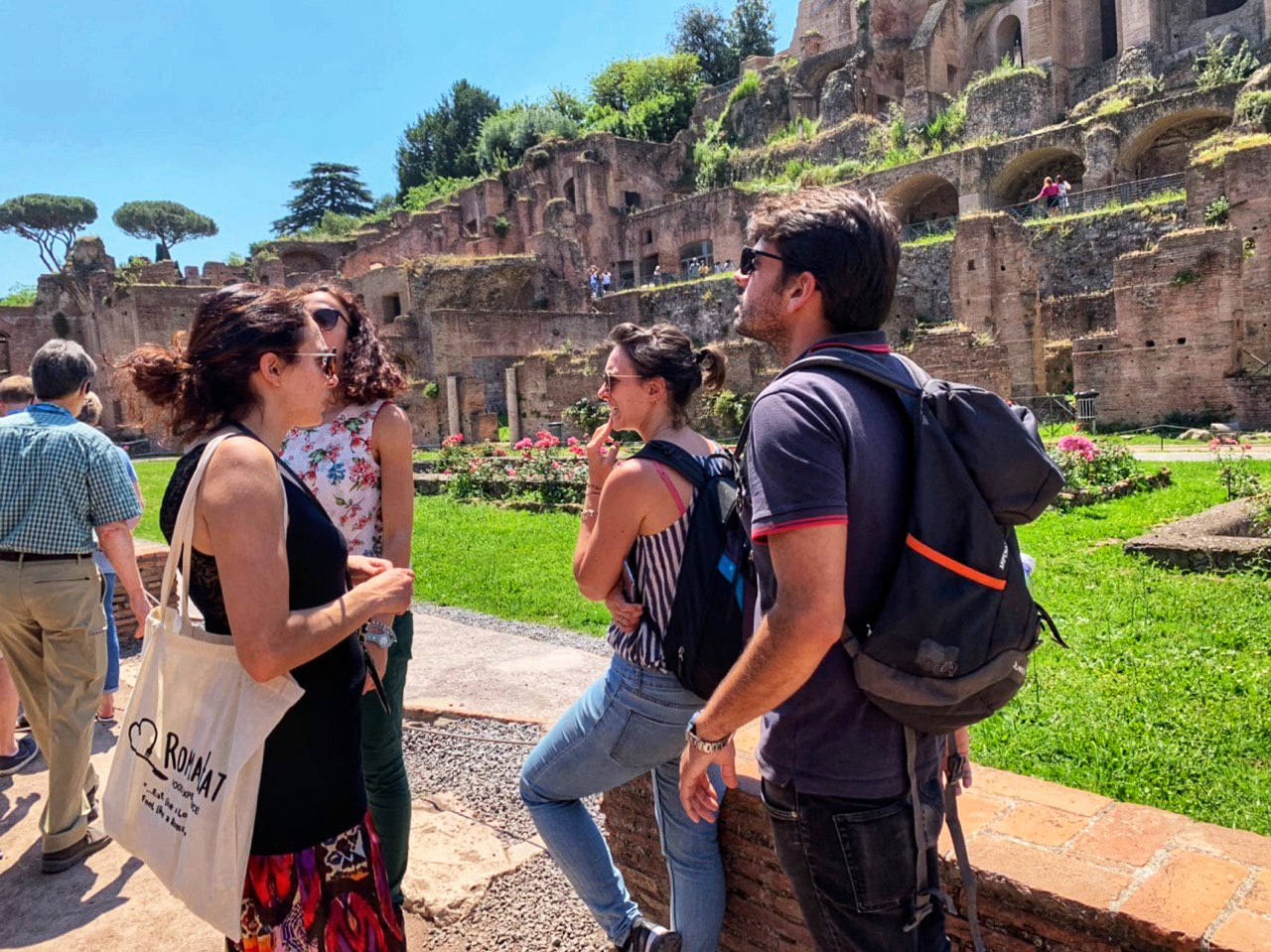 To the next digital journey,
Luca
0