Rome has always been a city loved by cinema: from the 60s with Federico Fellini's "La Dolce Vita", through Pier Paolo Pasolini's neorealism and Alberto Sordi's comedies, until today with Paolo Sorrentino's "La Grande Bellezza".
Rome is the perfect setting to describe that carefree "Italian way of life". The love for food, wine and history. Movies have always been the main, simplest and most spontaneous means to export this Lifestyle abroad.
We have therefore thought to draw up a special ranking of the best restaurants in the Capital, suitable to relive some of the most famous moments of amazing movies that have made the history of Rome and cinema.
La Veranda: The Great Beauty to dine in an Oscar location
Our special film and food tour begins with La Veranda, an elegant and sumptuous restaurant, used by Paolo Sorrentino as a backdrop for one of his scenes of the "Great Beauty". It was built to be a monastery, completely frescoed, inside Palazzo della Rovere, today is the ideal place to relive the elegance and magnificence represented in the film.
Mood: Unique and refined dinner
Where: Via Borgo Santo Spirito 73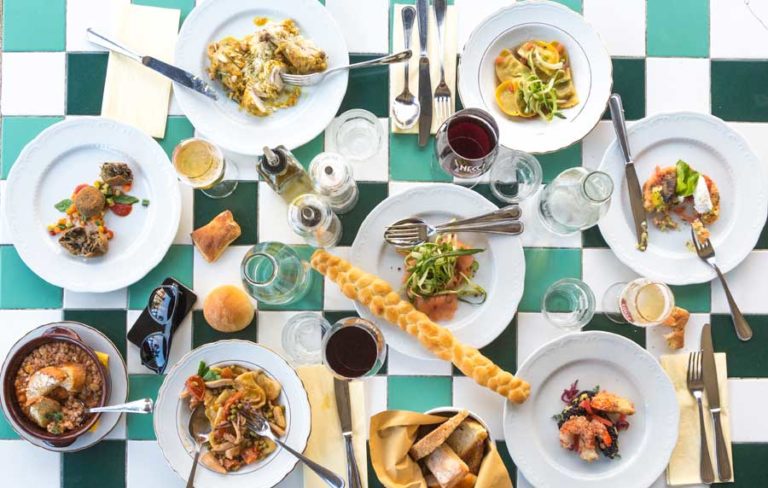 Necci since 1924: Pasolini's favorite restaurant in Rome
A stop not to be missed: Necci since 1924, also known as Bar Necci and made famous by Pier Paolo Paolini. Here were shot some of the scenes of "Accattone" in 1961, a tribute to peasant culture and symbol of that neorealism that made him famous. The bar, located in the fashionable Pigneto district, can transform itself from a breakfast bar to a restaurant, in a very special location.
Mood: Trendy dinner
Where: Via Fanfulla da Lodi 68
"You are of plump constitution. You're a little bit buzzy". At table with the master Alberto Sordi
The relaxing and welcoming, but also cheerful and lively atmosphere of Buzzicona, characterized by paintings, photographs and quotes by Alberto Sordi, will immerse you in one of the films of the great master of Italian Comedy.
Located in one of the most evocative places of Lido di Ostia, from the Buzzicona you will breathe the "romanity" that made Alberto Sordi famous in films like "Un americano a Roma", "I Vitelloni" or "Lo Sceicco bianco". You can taste real bucatini all'amatriciana, rigatoni alla carbonara or abbacchio allo scottadito.
Mood: Roman dinner on the road
Where: Via della Lungaretta 149
Have you ever been in one of these restaurants?
Let us know in the comments!
Until the next digital trip!
0